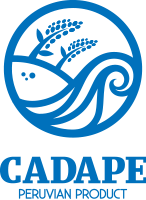 We are dedicated to foreign trade, international transportation of goods, consolidation, shipping, packaging and shipment control. We aim to meet the needs of different parts of the world with the products that we offer
We are in love with the very diverse natural resources offered by Peru and we believe that these are the tools that our team, conformed of qualified personnel located in different countries, will fulfill the ongoing commitment we have with our customers: complying their expectations, offering products of the highest quality. So we keep a close relationship with them, providing security and onfidence in the process of supplying their requirements
In Cadape, we want to be recognized internationally as an expert in innovative products that work and stand out for their quality and compliance deadlines.
We are a plant of processing and freezing of seafood products, it also is enabled for the demanding markets of USA, Europe, Asia and the rest of the world. Our company Fernández took 22 years in the fishing sector; emphasizing its multifaceted teamwork with vast experience in the food industry, for direct human consumption.
Through it, we have been collecting enriching experiences and multiple learning. Participating in programs such as: Export route of PromPeru, Peru-Ecuador binational meetings, Andean Business Meeting, Boston Seafood 2014, Panama Expocomer 2014, Global Seafood Expo 2015 Brussels.
This tour allowed us to improve our strengths, to take action on identified weaknesses, to meet the demand for seafood products in the world. Now we not just seek to continue with bulk products, but rather we created Khuwa, which will be our presentation letter to demanding markets where we have arrived.